2nd Feb 2023
The Definitive Guide to Kollect's Man with a Van Junk Removal Service
About Man with a Van Junk Removal
Junk removal is an essential service that can make a significant difference in the cleanliness and organization of your home or business. However, with so many options available, it can be difficult to know which company to choose. In this guide, we will provide all the information you need to make an informed decision about our junk removal service and finding the best rubbish removal solution for you.
First and foremost, it is important to understand the scope of our service. We offer a wide range of junk removal services, including removal of household items, construction debris, yard waste, and even hazardous materials. No matter what type of junk you need removed, we have the resources and expertise to handle the job.
One of the things that sets our junk removal service apart from the competition is our commitment to customer satisfaction. We understand that every customer has unique needs and we strive to exceed expectations by providing personalized service. Our man with a van professionals are trained to handle any job, big or small, and they will work with you to ensure that your junk is removed in a timely and efficient manner.
Another advantage of choosing our junk removal service is our commitment to the environment. We understand the importance of reducing waste and preserving the planet for future generations. That's why we make every effort to recycle or donate as much of the junk we remove as possible. By choosing our man with a van junk removal service, you can feel good knowing that you are making a positive impact on the environment.
We also take pride in our competitive rubbish removal pricing. We believe that everyone should have access to professional junk removal services, regardless of their budget. That's why we offer transparent pricing with no hidden fees or surprises. You can trust that the price we quote you is the price you will pay.
In addition to our standard junk removal services, we also offer specialized services such as foreclosures cleanouts, hoarding cleanouts, and estate cleanouts. If you are dealing with a specific type of junk removal challenge, we have the expertise to handle it.
Lastly, we understand that junk removal can be a stressful and time-consuming process, which is why we offer flexible scheduling. We work around your schedule to ensure that the junk removal process is as convenient as possible for you.
Common Questions about Man with a Van Junk Removal
Let's try answer some of our most common questions about our man with a van junk removal
How do I get rid of a lot of junk?
To get rid of a lot of junk you don't need to stress it because to answer that question quite plainly we are your solution! If you have a lot of rubbish and think how much is too much, there is never too much for us. Our man with a van junk removal team can take away as little as a kettle but as big as a full house clearance. And to make it even easier you don't need to do any of the work, just point at what you want gone and we will lift it into the van.
How much is a man with a van?
Our man with a van junk removal service is priced depending on what you need to get taken away. For example we charge on the volume of the truck load, a ¼ truck load of junk can cost from €180 depending on your county and you would be surprised how much you can fit into that much space. It can often work out cheaper than skip hire.
Do you dismantle and take away broken sheds?
Yes, we do! We can clear out your shed and dismantle and take it away in our man with a van junk removal service. If your shed is rotting or becoming an eye sore, leave it to us to do all the hard work.
What does a man with a van do?
In some cases a man with a van removes furniture if you were moving house but our teams remove and dispose of rubbish removal from properties, similar to a skip hire service except we do all the work for you.
How do I know what size truck load to pick?
We understand trying to figure out that part can be confusing, that's why we have put together this handy junk removal size guide to help you.
How is junk removal cheaper than skip hire?
The reason junk removal can work out cheaper than skip hire is because we price it based on the volume size of the truck, whether it is an ⅛, ¼, ½, ¾, or full truck size and often this can work out better value than skip hire. Sometimes our customers call our office looking for skip hire but our team can match or give a better price for our man with a van junk removal and our team does all the work so it's a win-win solution.
Rubbish Removal Sizes and guide prices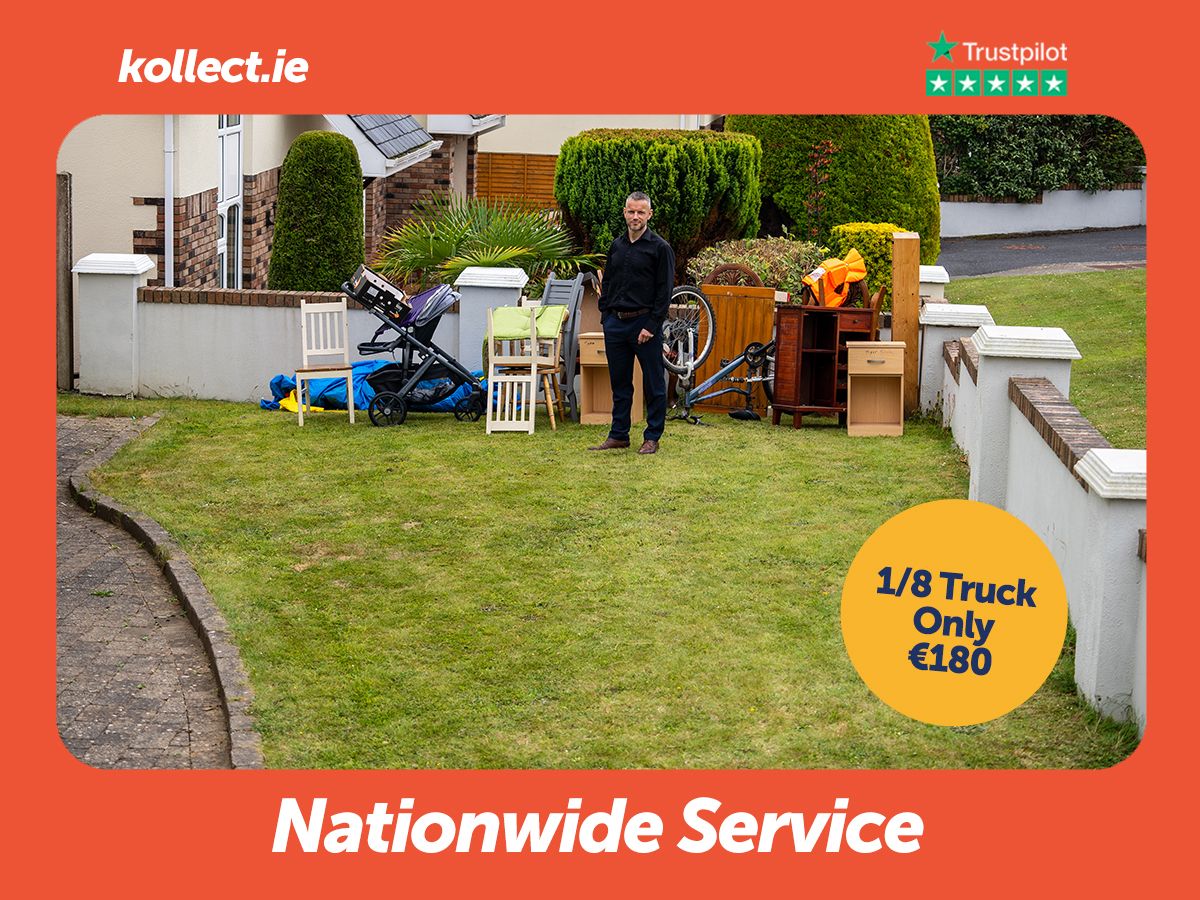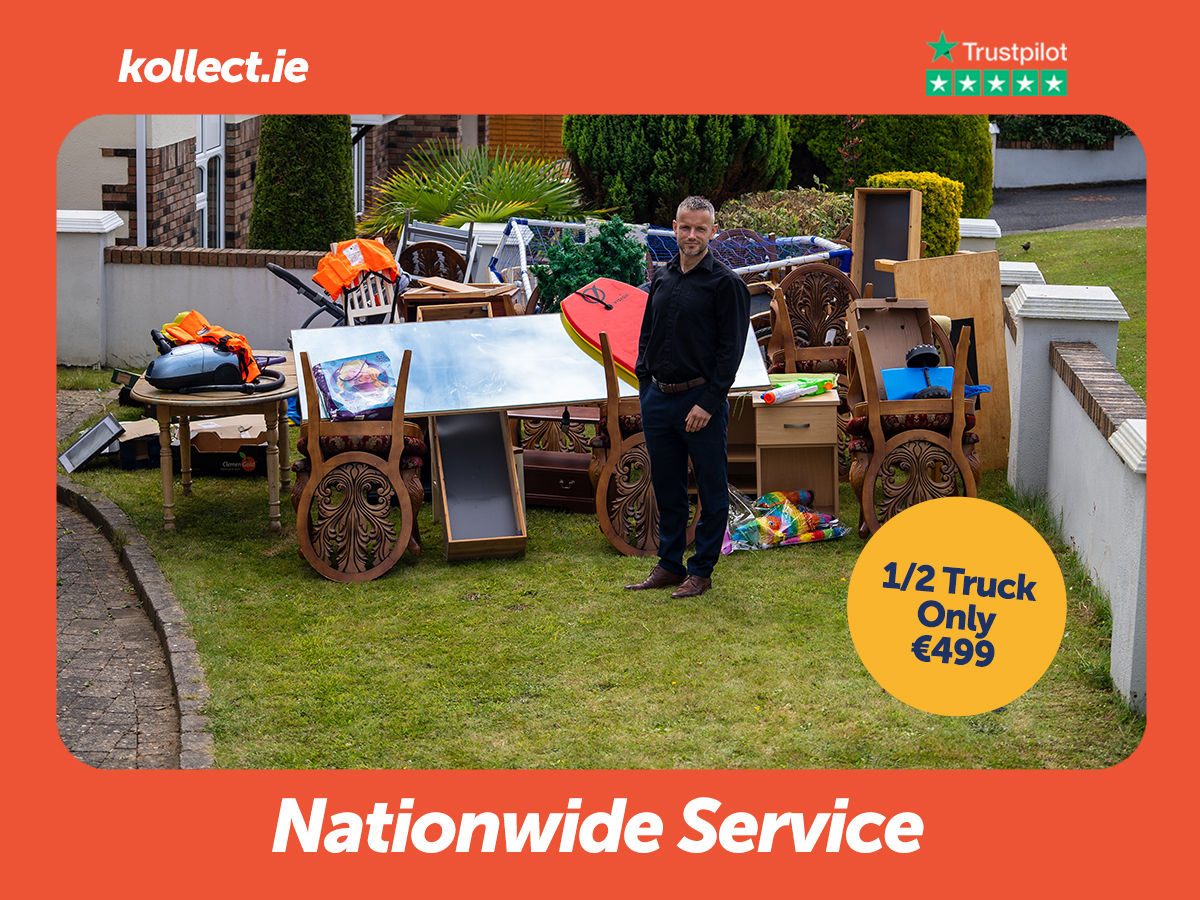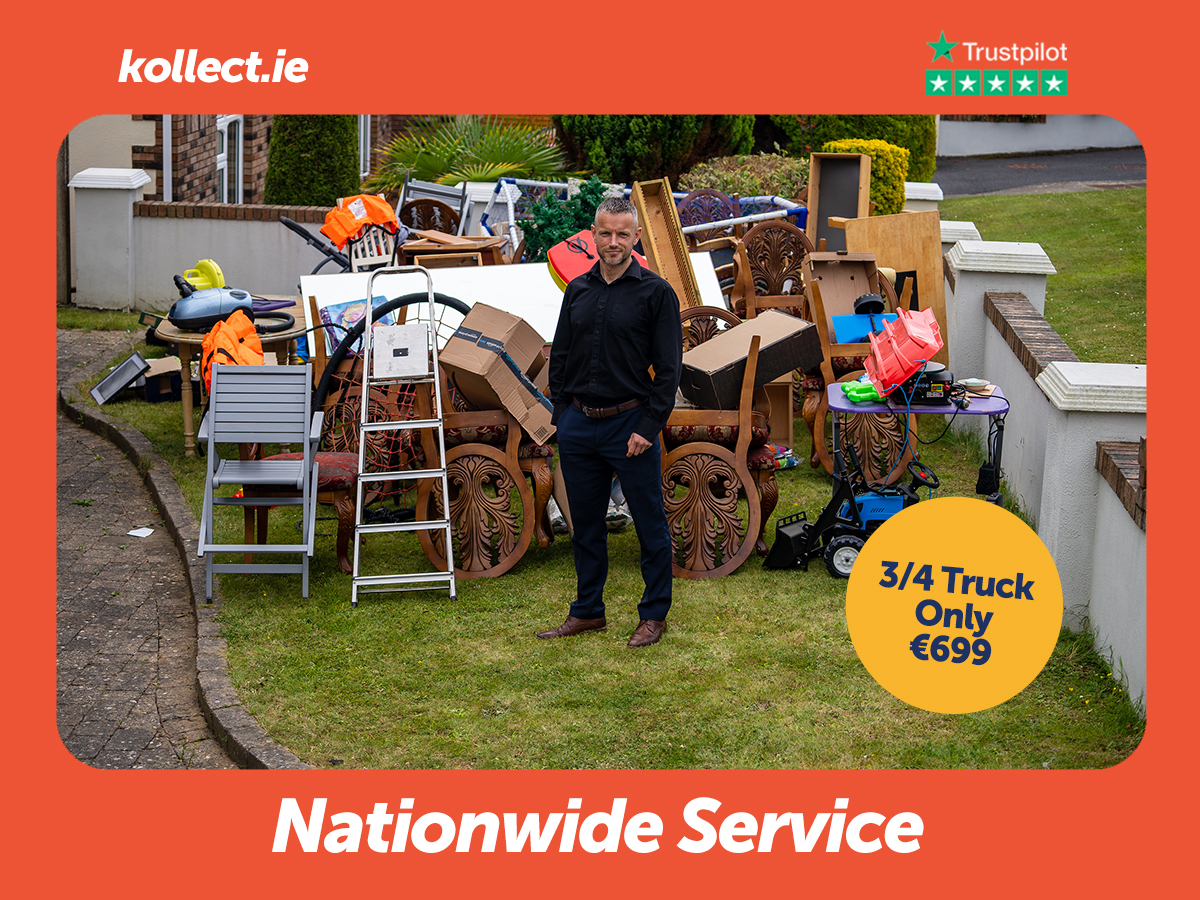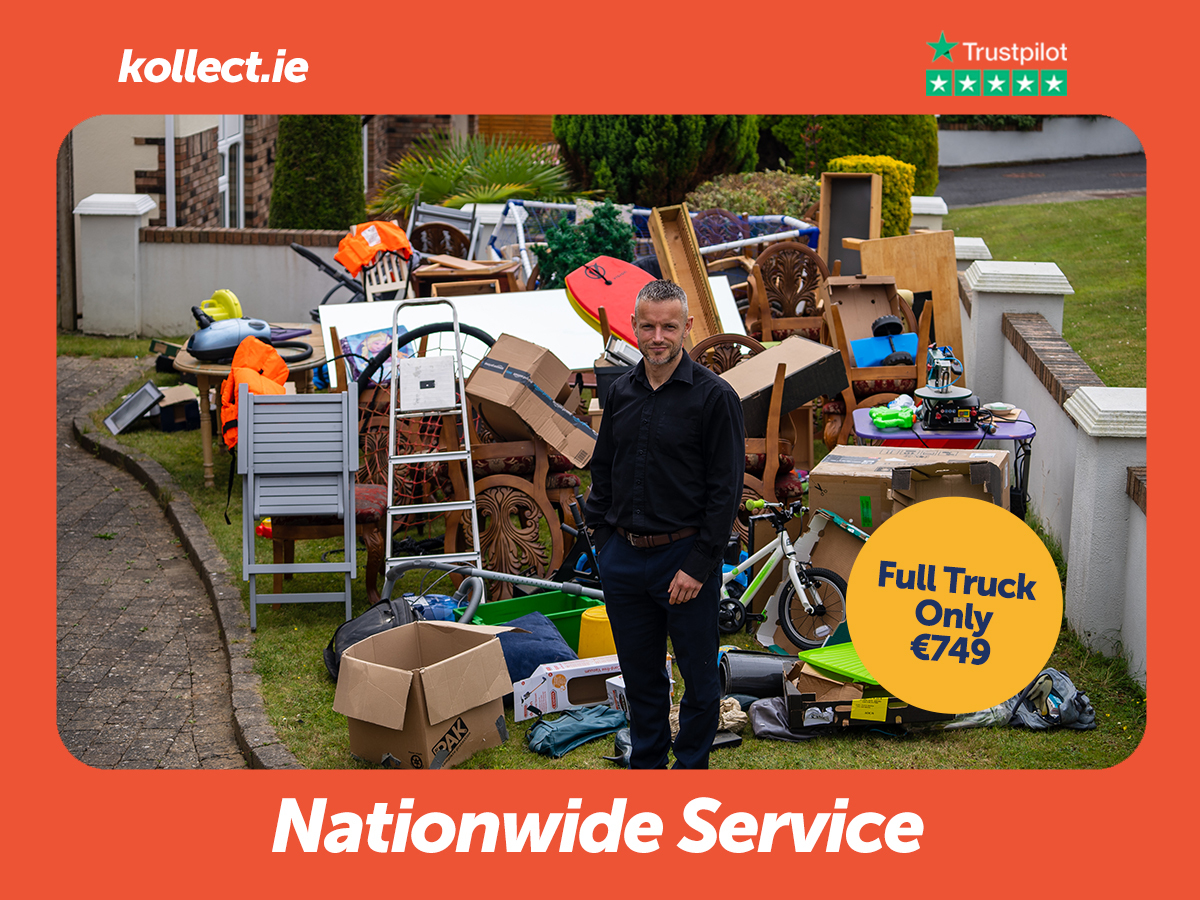 Book Junk Removal Today
In conclusion, our junk removal service is the perfect solution for anyone looking to declutter and organize their home or business. We offer a wide range of services, personalized customer service, a commitment to the environment, competitive pricing, and flexible scheduling. With our service, you can trust that your junk will be removed quickly, efficiently, and responsibly.
If you have any questions or would like to schedule a junk removal service, please don't hesitate to contact us. We have 1,000's of 5 star reviews online to prove we really are the junk removal experts. We have made the booking process so simple you will be done and dusted (excuse the pun!) in 60 seconds!
Alternatively, if you would like to speak with one of our friendly agents you can call us on 01 - 685 9092, we are open 7 days a week until 8pm. Our Junk removal service is nationwide so wherever you are in the country we've got you covered!