Best Pressure Washing Services in Ireland
High pressure wash services for paving & outdoor jobs!
Immediate results! Have your paving looking like new again
Sanitation using certified Eco-friendly detergent available
Washed by local pressure washing crews that know your Townland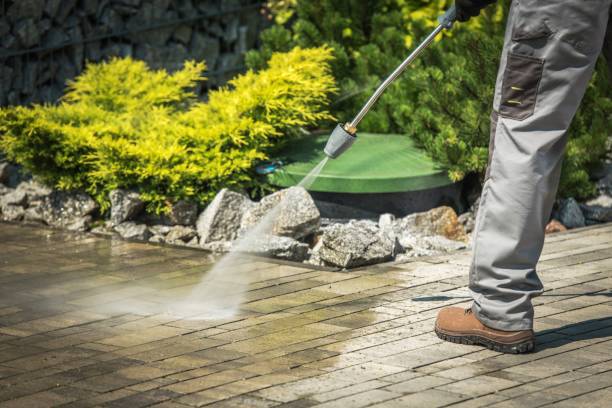 The pressure washing service
Your home is calling! Kollect is here to help you to clean your outdoor spaces professionally. Our pressure washing specialist will be sent when you order from Kollects online booking platform. When our specialist gets there, they will measure the area specified in your online quote and confirm all the costs and requirements. The technician will need to be able to use an electricity plug point and have access to running water from either an outside or inside tap. The pressure washer machine shoots out a powerful stream of water that can remove almost any grime, dirt or stains from your paving, patio or driveway or roof. No detergents are used in the process as the high pressure water stream usually dislodges any buildups on the cleaning surface.
How does it work? - Our Pressure Washing Technicians
1) Book your pressure washing technician through our online booking platform. Once booked, we'll send you confirmation of the service booking.
2) You don't have to meet our technician onsite. We will arrive at your property fully equipped with all your instructions required complete the job.
3) Once on-site, the technician will assess the area to be washed and carry out the job to the highest possible standard without bothering you or your tenants.
4) Leave the high pressure washing to the professionals. Rest easy knowing that your space will be looking brand new in no time!
Why Choose Kollect?
Kollect only works with the best power washing companies to ensure we always provide a 5 star service to our customers!
Our seasoned professionals have been vetted by us before being trained to use the latest techniques and equipment safely at your home.
We're fully licensed & insured so you can rest easy knowing that your property is in good hands and if anything does go wrong - you are covered.
We're ready to visit you at a moment's notice - even if you need us in the middle of a storm! Our hard-working, dedicated team will be there any day of the week regardless of the weather.
Stay safe and have contactless service with Kollect. If you have a front garden or a side gate to your backyard we are more than happy to carry out the work at a safe distance.
FAQ
You can use a power washer to clean a wooden deck, wall siding or a concrete surface like a patio, walkway, or driveway. Using a brush with soapy water is incredibly laborious and where a power washing service can get the job done in no time at all. Cleaning paving, walls and other outdoor areas is using a pressure wash service not only enhances the aesthetic value of your home but prevents hard to remove dirt and grime build ups that can damage your property permanently.
Never use high pressure power washer to clean people, animals, or plants. The force of the water from a pressure washer can hurt you and even go through your skin. It will also kill your plants for sure. Wear safety glasses every time you pressure wash a surface that needs it to safeguard your eyes from debris.
Shingles made of asphalt, wood with a stain or tint, items with lead based paint, old mortar, vehicles, windows, gutters, air conditioning units or anything wher the runoff could contaminate ground water.
While some surfaces are fine to pressure wash it may also depend on the strength of the stream. Kollects power washing teams are able to adjust the pressure on their machines to cater for different surface types.
Houses can be power-washed with a pressure washer at any time of the year. Before the brutal winter weather and lower temperatures set in, it is of utmost importance to make certain that your house is clean and safe from the elements.
As a general rule, you should use a pressure washer on your house between March and November. Before bitter cold weather and freezing temperatures hit, this is the best time to ensure your property is clean and protected.
Every single one of the pressure washing specialists that we work with has their full licence and insurance coverage for you property.
Our teams are very careful with their power washing equipment however, if something does get damaged by the washer our insurance will pay to rectify the issue.
Don't take our word for it
More
Less
Find The Cheapest Pressure Cleaning Companies in Ireland
Kollect is a cutting-edge online platform in Ireland that connects users with affordable, high-quality pressure cleaning services nationwide. Our intuitive booking system enables you to explore a variety of reliable cleaning companies, compare rates, and secure your desired service in just a few clicks. Experience the convenience of Kollect and enjoy cost-effective cleaning without traditional booking headaches.
We recognise the significance of a clean and attractive property and collaborate exclusively with reputable, skilled pressure cleaning companies in Ireland. Our partners are fully insured and equipped with the necessary tools and expertise to provide outstanding cleaning services. Additionally, our streamlined booking process lets you arrange a service at your convenience, eliminating time-consuming phone calls or emails.
Kollect is dedicated to delivering a stress-free, budget-friendly solution for your pressure cleaning requirements. Whether you need your driveway, patio, or building exterior cleaned, we have the perfect service for you. Give Kollect a try and savor the advantages of a pristine property at a reasonable cost!
Nationwide Pressure Wash Services