Pressure washing that makes your paving shine
Professional jet washing for mossy, slippery stains!
Immediately noticeable results
Sanitation of the cleaned areas with EN1276 certified detergent available, too
Eco-friendly & detergent-free cleaning
Performed by local pressure washing teams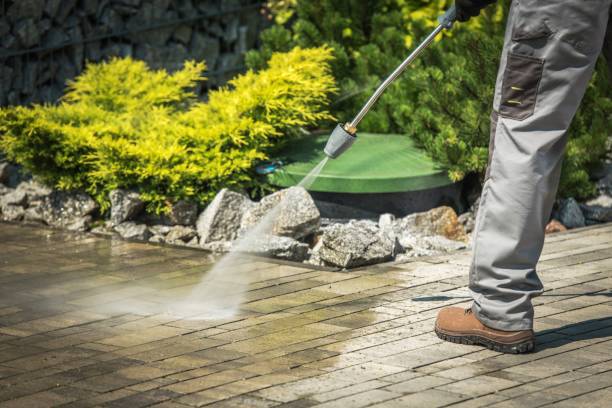 What is our pressure washing service?
Your home is calling! When you're ready to give your outdoor space some TLC, we're here to help. Through our online booking platform, the pressure washing technician will be selected. He will take measurements of the area on arrival. He will then confirm the quote you received online or over the phone. As soon as that's done, he will get set up by preparing the equipment. It is worth noting that the technician will need access to electricity and running water. Having an external water tap is ideal, however in case there isn't any available, an internal one will do fine. Once the pressure washing machine is set up, the cleaning will begin. The machine ejects a powerful stream of water that can easily dislodge accumulated grime, dirt and various types of stains off your paving, patio and driveway. There will be no detergents used as the pressurised water alone is sufficient to get the job done!
How does it work? - Our Pressure Washing Technicians
1) Book your pressure washing technician through our online booking platform Once booked, we'll send you confirmation of the service booking.
2) You don't have to meet our technician who will be completing the job The pressure washing technician will arrive at your property fully equipped to complete the job to the highest standard.
3) Leave the pressure washing to the professionals Once on-site, the technician will assess the area to be washed and get right down to work. They will carry out the job to the highest possible standard without bothering you.
4) Rest easy knowing that your space will be looking brand new in no time!
Why Choose Kollect?
Here at Kollect we work with only the best pressure washing technicians to ensure we provide a 5 star service, always!
Our pros are seasoned professionals who have been personally interviewed by us before being extensively trained to use the latest techniques and equipment.
We're fully licensed & insured so you can rest easy knowing that your property is in good hands.
Our hard-working, dedicated team will be there any day of the week regardless of the weather. We're ready to visit you at a moment's notice—even if you need us in the middle of a storm!
Stay safe and have contactless service with us, if you have a front garden or a side gate to your backyard. The pressure washing experts we use know exactly what's right for you when it comes to pressure washing on your property. Your pressure washing service can be customised to fit your needs.
FAQ
When it comes to the maintenance of your home or business, pressure washing is one of the most important things you can do. It provides a thorough, deep cleaning that is a lot more necessary than you might think—it's not all looks, though appearance is important too. A good cleaning can prevent damage to your home or business and even help keep your family or employees safe and healthy.
Asphalt Shingles. Stained Wood. Lead Paint. ... Old Mortar. ... Vehicle. ... Windows. ... Gutters. ... AC Units.
You can pressure wash your house any time of the year. It is particularly important to make sure your home is clean and protected before harsh winter weather and colder temperatures set in. It's equally important to have your home looking great for the summer months!
Yes, all of the pressure washing technicians we use are fully licensed and insured so no need to worry!