2nd Feb 2023
Gutter Cleaning 101: What Does It Include and Why Is It Important?
Gutter Cleaning is an essential service but don't worry we have you covered!
Why You Should Use Our Gutter Cleaning Service Gutters are one of the most important components of your home. They are designed to collect and direct rainwater away from your home. Without properly functioning gutters, water can accumulate around your home's foundation and cause serious damage.
Regular gutter cleaning is an essential part of home maintenance, and using our gutter cleaning service is the best way to keep your gutters in top condition. Gutters are designed to collect rainwater and direct it away from your home's foundation. Over time, however, gutters can become clogged with leaves, twigs, and other debris. If this happens, water can back up and cause damage to your home's foundation by seeping into the soil and creating moisture. This can lead to cracks in your foundation, or even the formation of mould and mildew. Regular gutter cleaning is the best way to avoid this kind of damage.
Our gutter cleaning service, we use the latest tools and techniques to ensure that your gutters are properly cleaned. Our team of experienced professionals will inspect your gutters and use a combination of power washing and hand-cleaning to remove any debris. We can also identify and repair any potential problems with your gutters before they become major issues.
Our gutter cleaning service is also designed to be affordable and hassle-free. We offer flexible scheduling options so you can get your gutters cleaned at a time that is convenient for you. We also provide free estimates so you can be sure you are getting the best value for your money.
In addition to our gutter cleaning service, we also provide gutter protection. This can be especially beneficial for those who live in areas with lots of trees and other debris that can clog gutters. Our gutter protection system uses specially designed guards and screens to keep debris from entering your gutters. This can help to prevent major clogs and make regular gutter cleaning even easier.
By using our gutter cleaning service, you can be sure that your home is protected from water damage and other potential problems. Regular gutter cleaning is an essential part of home maintenance, and our team of experienced professionals can help you keep your gutters in top condition.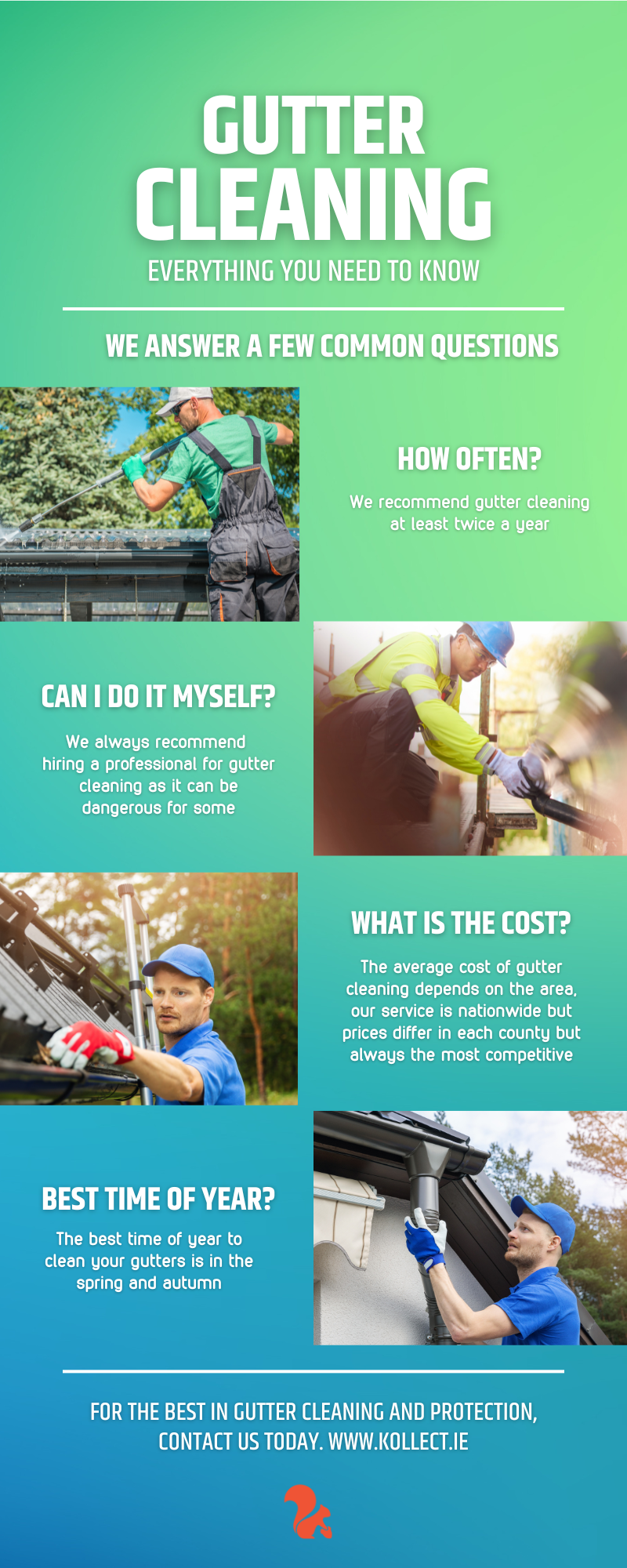 Let us answer some of your most frequently asked questions to finish off
What is the average cost of gutter cleaning in my area?
The average cost of gutter cleaning depends on the area, we are nationwide but prices differ in each county due to the multiple partners we work with in these areas, however our aim is to ensure you are getting the best possible price and the best possible service. As a baseline we can offer gutter cleaning for as little as
What time of year is best for gutter cleaning?
Most experts agree the best time of year to clean your gutters is in the spring and fall. An early spring cleaning will help clear out all the leaves and debris from your gutters and ensure rainfall can flow freely into the spouts.
Can you clean gutters by yourself?
Yes and no, if you have the right equipment but we highly recommend hiring a professional to avoid an accident or by doing any damage to your gutters.
How often should gutters be cleaned?
How Often Should You Clean Your Gutters? In essence, you should make a point of cleaning your gutters at least twice a year. Depending on what sort of foliage you have near your home (such as pine trees), you may want to clean once every three months, if you are unsure please consult with Kollect and we can advise.
Contact Kollect
So for the best in gutter cleaning and protection, contact us today. We'll make sure that your gutters are kept in top condition all year round. We have 1,000's of 5 star reviews online to prove our we really are the Gutter Cleaning experts!. We have made the booking process so simple you will be done and dusted in 60 seconds! Alternatively, if you would like to speak with one of our friendly agents you can call us on 01-513-3254, we are open 7 days a week until 8pm. Our Gutter Cleaning service is nationwide so wherever you are in the country we've got you covered!