Protect your property from costly water damage
Get gutter cleaning done quickly from ground level
A one-month guarantee for no blockage
Done with high-reach equipment from the yard/street
Protecting the house roof and basement against leakage
Reducing the risk of mould growth & pest infestations
Before' and 'after' cleaning pictures of the guttering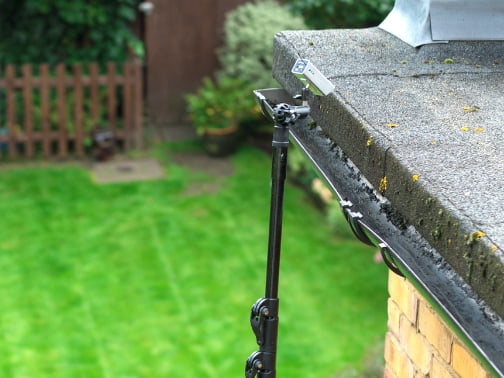 What is our Gutter Cleaning Service?
Are your gutters blocked and dirty? If so, you're not alone! It can be a big problem when your gutters get clogged with leaves and other debris. That's why Kollect is here to help. Our partners offer expert gutter cleaning services in Dublin and Kildare for homes and businesses. They'll make sure to clean out all of those old leaves from the last few months, so they don't pile up this year which will cause clogs and water stagnation on your roofing material, sending it into eventual decay. Simply book our gutter cleaning services online or call us for a free quote. Our partners can unblock your gutters, power wash them and leave them looking like new! You can avail of our junk removal service and gutter cleaning service in the same package.
How Does it Work? - Gutter Cleaning Specialists
1) Book a team of Gutter cleaning specialists through our online booking platform Once booked, we'll send you confirmation of the service booking.
2) You don't have to meet the Gutter cleaners who arrive on the day A team of gutter cleaning specialists will arrive at your property fully equipped to complete the job to the highest standard.
3) Leave the gutter cleaning to the professionals Once on-site, the team will assess the condition of your gutters and get right down to work. They will carry out the job to the highest possible standard without bothering you.
4) Rest easy knowing that your gutters are clean and clear, problem solved!
Gutter Cleaning Guide
We explain why gutter cleaning is important and answer some frequently asked questions
Why Choose Kollect?
Here at Kollect we work with only the best Gutter cleaning professionals to ensure we provide a 5 star service, always!
Our pros are seasoned professionals who have been personally interviewed by us before being extensively trained to use the latest techniques and equipment.
We're fully licensed & insured so you can rest easy knowing that your property is in good hands.
Our hard-working, dedicated team will be there any day of the week regardless of the weather. We're ready to visit you at a moment's notice—even if you need us in the middle of a storm!
Stay safe and have contactless service with us, if you have a front garden or a side gate to your backyard. Our experts know exactly what's right for you and your gutters. Your gutter cleaning service can be customised to fit your needs.
FAQ
Winter is the best time to get your gutters in good health, to ensure that water is free-flowing and dirt build-up does not cause damage. This makes gutter cleaning a necessity rather than a luxury.
Gutter cleaning is key to keep your gutters in good condition, so they can be there for you when it rains. Gutter cleaning involves scrubbing with a mechanical brush, washing with steam cleaners and polishing by hand to remove moss, black marks and algae that often appear on gutter fronts.
When you don't clean your gutters, the downspout can get clogged from leaves, debris, or any matter that can wind up there. This blockage then leaves standing water to collect and eventually overflow. Left unattended to, the leaves that clog up your gutter can begin to decompose and eventually rot. This rotting process is one of the most common causes of mold in your home. Mold spores can spread throughout your home's air ducts and ventilation systems, which can lead to allergic reactions for some people (especially children).
The most common problem we see with gutters is clogging. When gutters become clogged, they can't drain properly and can start to overflow during rainstorms. When the water can't pass through properly, it can start to cause problems with your foundation. This can be avoided by cleaning out your gutters regularly (once a month) and ensuring they are properly angled to ensure they flow freely. If you are unsure of how much slope you need in your gutter system, talk to an expert at Kollect