Posted by Adam Kennedy on 30th Jun 2017
7 Creative Ways to Disguise Your Wheelie Bin
Why disguise your wheelie bin? Your home's front entry is the focal point of its curb appeal. Your entry should also reflect the home's interior.
House numbers, a wall-mounted postbox, an overhead light fixture, painted doors, flower-pots and plants are all extras that can add style and interest to your home's exterior curb appeal and increase the value of your property.
However, wheelie bins and recycling boxes are big, ugly and unsightly items that take up lots of space. Not everyone has a big garage to store them away in, so what do you do with these ugly but essential plastic waste containers?
This household eyesore might be a necessity but that doesn't mean you have to look at it all the time. The alternative is to create a creative way to disguise your bin.
Here are some stylish options to Disguise your Wheelie Bin:
Bin covers are a great idea to hide and protect your bins. Wooden bin covers can be bought here. Willow Screens are stylish, occupy little space and are very affordable from thegardenshop.ie
(PHOTO BY FENTON ROBERTS GARDEN DESIGN)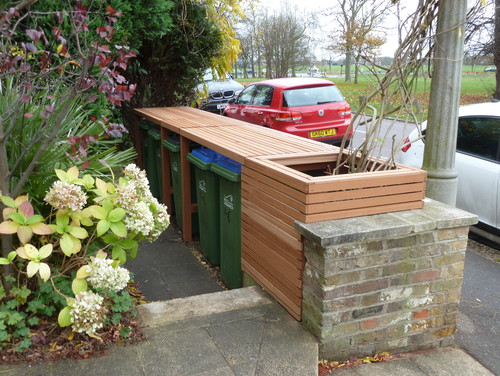 The bin cover above could be a potential DIY project, a flower bed combined with some fencing.
(PHOTO BY SUSTAINABLE GARDEN DESIGN)
The storage solution as seen above is simply a wooden lattice or fence, available to buy at many hardware stores like Woodies.ie.
There may be other benefits to Disguise your Wheelie Bin:
Leaving your bins outside your home can potentially lead to members of the public using your bins to dump their rubbish. A regular occurrence in cities and suburbs, this will be especially annoying.
Weather can be problematic for bins, particularly in winter where the high winds can whip bins and turn them over, leaving rubbish everywhere.
Is there anything old lying about that could be upcycled?
At Kollect, we do things differently. We connect you to the most comprehensive network of vetted waste removal companies in Ireland, so you can get your waste collected—whenever, wherever and whatever.
It doesn't matter if it's commercial or domestic bin collection, skip hire, skip bag collection or junk removal, we've got you covered in just a few clicks.
Click the button below to get your FREE quote, or give us a call on (01) 685 9092.
Contact Us Button