Why disguise your wheelie bin? Your home's front entry is the focal point of its curb appeal. Your entry should also reflect the home's interior. House numbers, a wall-mounted postbox, an overhead light fixture, painted doors, flower-pots and plants are all extras that can add style and interest to your home's exterior curb appeal and increase the value of your proprty. However wheelie bins and recycling boxes are big, ugly and unsightly items that take up lots of space. Not everyone has a big garage to store them away in, so what do you do with these ugly but essential plastic waste containers?This household eyesore might be a necessity but that doesn't mean you have to look at it all the time. The alternative is to create a creative way to disguise your bin.
Here are some stylish options to Disguise your Wheelie Bin:
 Bin covers is great idea to hide and protect your bins. Wooden bin covers can be bought on grproperty.ie Willow Screens are stylish, occupy little space and are very affordable from thegardenshop.ie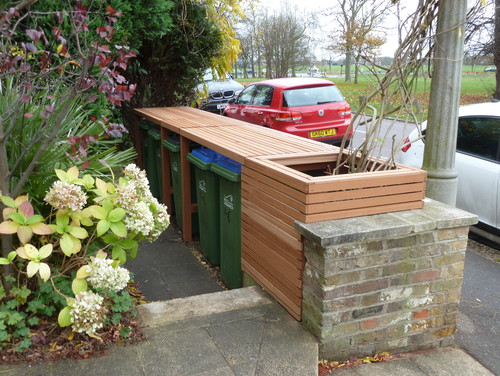 The bin cover above could be a potential DIY project, a flower bed combined with some fencing.
Woodies.ie
There may be other benefits to Disguise your Wheelie Bin:
Leaving your bins outside your home can potentially lead to members of the public using your bins to dump their rubbish. A regular occurrence in cities and suburbs, this will be especially annoying.
Odours and smells.
Weather can be problematic for bins, particularly in winter where the high winds can whip bins and turn them over, leaving rubbish everywhere.
About Kollect
Kollect.ie is the only pay-as-you-go Bin Collection  booking engine in Cork and Waterford. Our Co-founders came up the pay-as-you-go idea when they realised they were sending out a half full bin and still paying the same money per month. By switching to a pay-as-you-go system Kollect can save households up to 40% off yearly collections. Only pay for the service when you need to use it. No contracts, no direct debits. Simply Pay-as-you-go!Kollect booking engine also specialise in Junk removal and Skip Hire throughout Ireland. For more information, see here.